At War is proud to announce the launching of the all new and official At War website!! WWW.ATWARTHEBAND.COM. It has been too long and with the help of web guru and heavy metal friend Sick Thrash aka the Silent Creature, this fantastic site has finally become a reality. Be sure you check back often for updates, purchase merch in our Shop and stay up to date on all the information that will be of interests to you… The At War legions!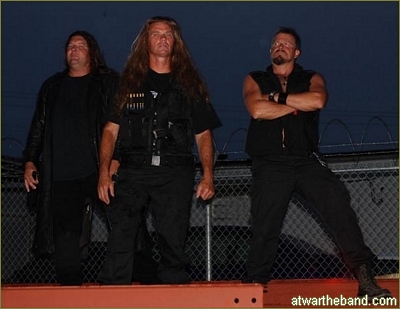 We would also like to announce the release of the Limited Edition LP Vinyl and Cassette version of "INFIDEL" on Heavy Artillery Records! This is a very cool full sized gatefold album that will include two exclusive premiums you will not want to miss! Drop us an email concerning ordering information or go to Heavy Artillery Records. Pre-sale orders are currently being taken. Don't miss out on these, they're very limited!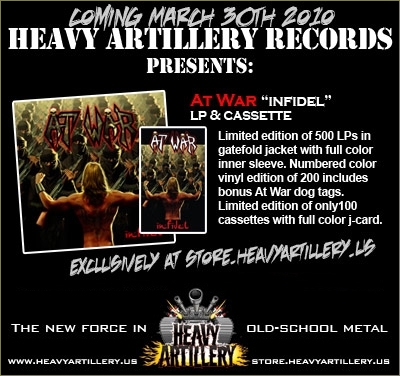 A live version of 'Ilsa (She Wolf Of The SS)' from our October 2009 Virginia Beach, Va. concert at the Half Shell will be featured on the new Blower Records 2 disc compilation "Forged In Metal". The 2 disc cd contains alot of good heavy metal bands and should be out sometime this month. Head on over to Blower Records and pick yourself up a copy!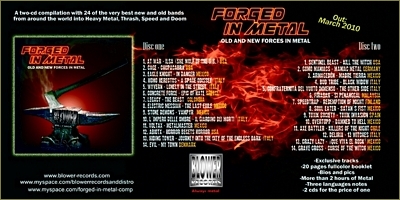 The all new broadcast promo video for "Make Your Move" made it's debut March 4th, 2010. Two more as yet to be seen videos, "Semper Fi" a studio look and a blast from the past with "Covert Sins" shot live in May of 1991 are streaming on our Videos Page, go get some! Enjoy!!
At War is currently rehearsing like maniacs for their first appearance in Japan as a co headliner for this years "True Thrash Festival" in Osaka, Japan at the Esaka Muse Hall on March 27th and 28th! At War will be playing both nights. At War will also be returning to Germany for this years "Way of Darkness Festival" in October. A mini tour of Brazil is being negotiated as we speak and we hope to have all the details for you very soon. For the hometown crowd look for At War at this years Virginia Beach "Surf and Skate Festival"! Keep up with all of our Tour Dates and special one off shows here.
submitted by Paul Arnold on 03/18/2010