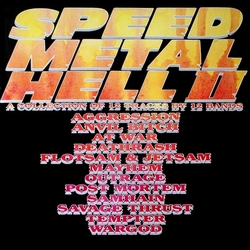 release date:
December 31, 1986
share:
"Speed Metal Hell II" (COMPILATION)
Released: 1985
Art Direction:
Compiled By:
Coordinator [Album Coordination]:
Cover, Painting:
Engineer:
Label: New Renaissance Records
Format: Cassette & Vinyl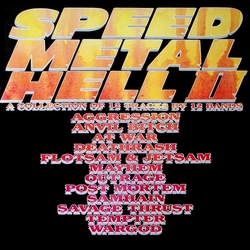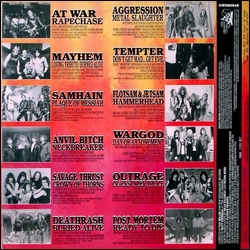 SPEED METAL HELL II [COMPILATION] 1986
A1. Rapechase (At War)
A2. Loving Tribute/ Buried Alive (Mayhem)
A3. Plague Of Messiah (Samhain)
A4. Neckbreaker (Anvil Bitch)
A5. Crown Of Thorns (Savage Thrust)
A6. Buried Alive (Deathrash)
B1. Metal Slaughter (Aggression)
B2. Don't Get Mad, Get Evil (Tempter)
B3. Hammerhead (Flotsam And Jetsam)
B4. Day Of Attonement (Wargod)
B5. Cracks Under The Ice (Outrage)
B6. Ready To Die (Post Mortem)
Line-Up (left to right):

Dave Stone - Drums
Paul Arnold - Bass Guitar/Vocals
Shawn Helsel - Lead Guitar/Backing Vocals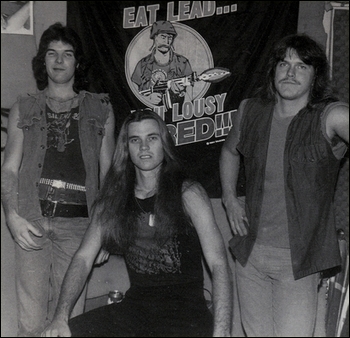 New Renaissance Records Vinyl: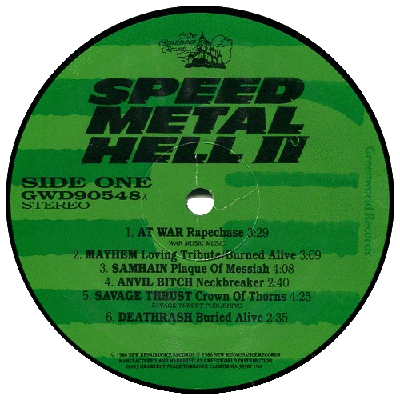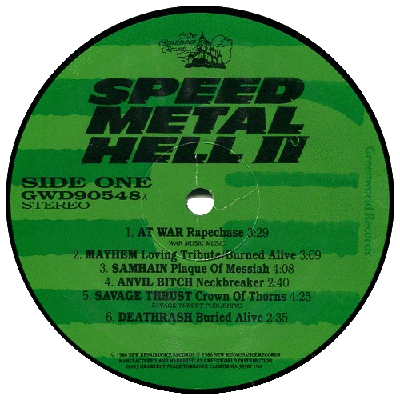 Play The Music:
A1. Rapechase

At War

3:31
Notes:
The track "Rapechase" featured on the Speed Metal Hell Compilation II is the unmastered "
Eat Lead
" Demo version.
The Cassette features one more track than the Vinyl:
Burning Deep Below (Annihilation)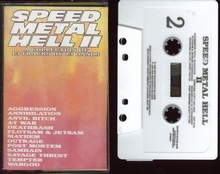 The Vinyl was also released on Rock Brigade Records in Brazil in 1987.
Interesting Links About The Album:
Discogs