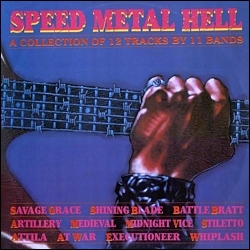 release date:
December 31, 1985
share:
"Speed Metal Hell" (COMPILATION)
Released: 1985
Art Direction: Patrick Pending
Compiled By: Pat Miller
Coordinator [Album Coordination]: Dean Naleway, Peter Heur
Cover, Painting: Tim Teebken
Engineer: Jon Guggenheim
Label: New Renaissance Records
Format: Cassette & Vinyl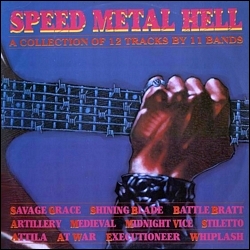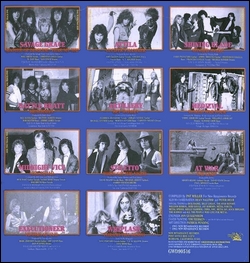 SPEED METAL HELL [COMPILATION] 1985
A1. Master Of Disguise (Savage Grace)
A2. Fear My Way (Savage Grace)
A3. Lucifer's Hammer (Attila)
A4. Winged Snake (Shining Blade)
A5. Henchman (Battle Bratt)
A6. Hey Woman (Artillery)
B1. World War Four (Medieval)
B2. Vice Squad (Midnight Vice)
B3. Through The Night (Stiletto)
B4. Eat Lead (At War)
B5. Victims Of Evil (Executioner)
B6. Trash Till Death (Whiplash)
Line-Up (left to right):

Dave Stone - Drums
Paul Arnold - Bass Guitar/Vocals
Shawn Helsel - Lead Guitar/Backing Vocals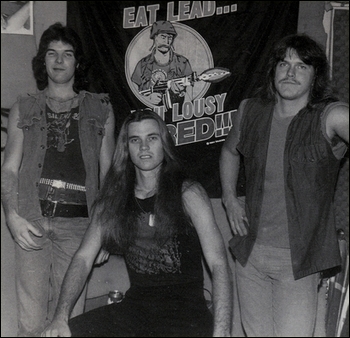 New Renaissance Records Vinyl: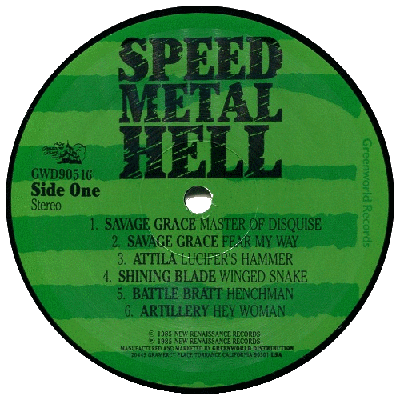 Rock Brigade Records Vinyl: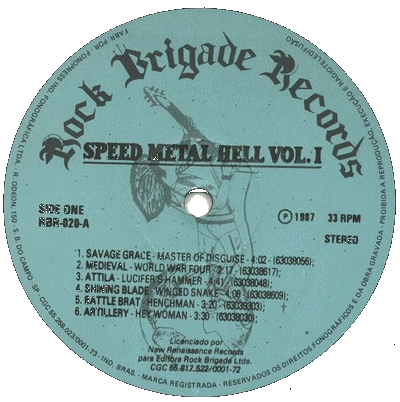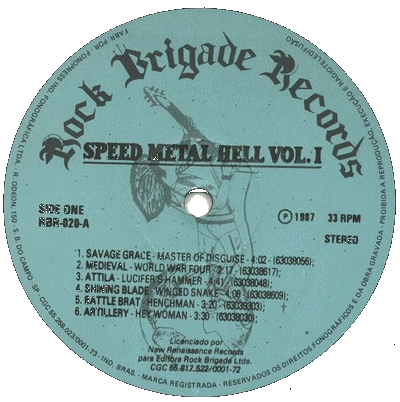 Play The Music:
Notes:
The track "
Eat Lead
" featured on the Speed Metal Hell Compilation is the unmastered "
Eat Lead
" Demo version.
The Cassette features three more tracks than the Vinyl:
Chained Up Tied Down (Whiplash)
Ready To Fire (Vice)
Why Don't You Die (Monolith)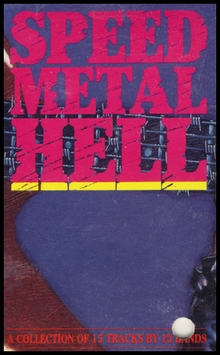 The Vinyl was also released on Rock Brigade Records in Brazil in 1987.
Interesting Links About The Album:
Discogs